DISCOVER A NEW WAY TO CLEAN!



Sweeping, Mopping, Tossing the Bucket Around, Squeezing Hard, and Waiting a Long Time for the Floor to Dry All Make Cleaning the Home a Tiring Job.
ÊRotate it 360 degree of clean, make every corner can clean and bright.
An efficiency microfiber pad to remove tough, sticky messes for your living room, kitchen and shower room with cleaning traceless, easily in hygienic by without any battery power.
EASY INSTALLATIONÊ!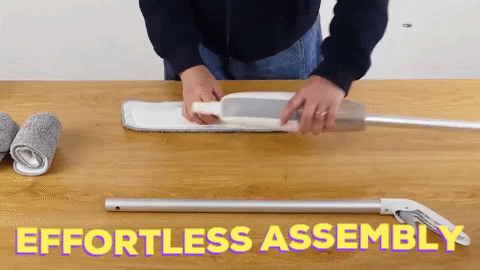 The painstaking days of cleaning are finally over. Revolutionize your cleaning experience.ÊWhy make cleaning harder than it has to be?ÊToday and for a limited time only save up to 500 inr off your order. ClickÊadd to cart and save!

Material:ÊMicrofibre Fabric
Absorption:Ê<10 seconds
Type:ÊHook & Loop Type
Packaging:ÊWith 1 Mophead
Capacity:Ê<300ml
Wringing Method:ÊSliding Type
Mop Rod Type:ÊHoisting Rod + Plastic Tray
Handle Type:ÊUnextensible
Head Shape:ÊRectangle
Weight:Ê<2kg
Mop Head Material:ÊSynthetic Cloth
Pole Material:ÊAluminum
Feature:ÊEco-Friendly
Mophead Quantity:Ê1
Color: As Per AvailabilityÊ
Ê
HIGH DEMANDÊ??Ê
Due to extremely high demand & Covid-19 restrictions, orders may take up to 5-7 business daysÊto ship and arrive. Product colour options will be as per theÊavailability.Ê
Ê
NOTE: DO NOT PLACE ORDER IF YOUR AREA IS IN CONTAINMENT ZONE OR YOU AREN'T ABLE TO PICKUP THE DELIVERY.
OUR EXECUTIVE WILL MAKE A CONFIRMATION CALL TO YOU SO KINDLYÊPICKUPÊTHE CALL. PLEASE PROVIDEÊYOUR COMPLETEÊADDRESS WITH CORRECTÊHOUSE NUMBER.
Available Online Only. We Ship Across India!
Ê