Stylish & Compact Double Sided Fur Remover

TheÊEasiest way toÊremove fur!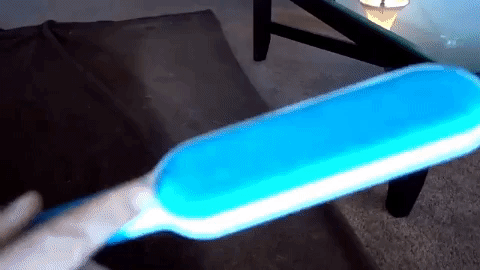 Having a problem with yourÊpet's furÊon your sofa, clothes, and other things inside the house? This is what you're looking for!
A must have for your clothes!?
When you useÊFur And Lint Remover Brush, you'll never spend money on another refill again. There is no refills, no tape, and no messes.?
And it is the perfect pet hair remover for clothes, furniture.ÊFur And Lint Remover BrushÊsaves you time and money.?
Everyone knows that pet roller is a must for pet guardians.?
Simply brush against the direction of the grain of the bristles to pick up pet fur. Next . dip the brush into the self-cleaning base and pull it out. Then . remove the fur or lint collected from the brush . which remains in the collection tray at the bottom of the base. Lastly . pull out the tray and discard the contents.
FEATURES:
Contains thousands of micro bristles that pick up fur . lint.

Extra large / double sided Ð Cleans up twice as much in half the time
Self cleaning base ?C Just one dip . and both sides are cleaned up quick

No refills needed Ð Can use it over and over again for a very long time.
Picks up a variety of messes:
Fur And Lint Remover Brush is great at keeping your clothes, fabric, and pet areas free of messes.? This self-cleaning lint brush picks up.
Reusable:ÊThis Pet hair remover with self-cleaning base doubles as an upholstery cleaner for couches, clothes, carpet, and Furniture.
Double-sided extra-large lint brush:ÊDouble-action working on both sides to give you more time removing fur and less time empty the base.
No refills required:Êabsolutely no tape required to clean up and all you need is to empty the fur from the bottom from time to time. The micro-bristles will take care of everything!
Easy self-cleaning:ÊJust dip the fur-filled brush into the base and take it out, you will use a clean brush again. No mess, no sticky tape, and no refill anymore.
Travel size brush included:ÊPortable for your travel, perfect to keep in your bag. Its features are the same as the full-size fur remover. Just pull the top to uncover the lint brush and use the base as a handle.
Specifications:
Material: Plastic
Color: Blue/Grey/Orange
Weight:300g
Size:23*7cm
HIGH DEMANDÊ??Ê
Due to extremely high demand & Covid-19 restrictions, orders may take up to 5-7 business daysÊto ship and arrive. Product colour options will be as per theÊavailability.Ê
NOTE: DO NOT PLACE ORDER IF YOUR AREA IS IN CONTAINMENT ZONE OR YOU AREN'T ABLE TO PICKUP THE DELIVERY.
OUR EXECUTIVE WILL MAKE A CONFIRMATION CALL TO YOU SO KINDLYÊPICKUPÊTHE CALL. PLEASE PROVIDEÊYOUR COMPLETEÊADDRESS WITH CORRECTÊHOUSE NUMBER.
Available Online Only. We Ship Across India!