THE VIRAL - Sunset Lamp Exclusive Limited Edition Product
THE PROJECTION LAMP WILL TAKE YOU TO THE BEAUTIFUL SCENERY OF YOUR OWN BEDROOM, CREATING A ROMANTIC ATMOSPHERE.
Our projection lamp LED light has various color, which can be used as photo props. It is very suitable for family celebration party dinner in the garden/backyard or any other special occasions. It is especially suitable for Christmas gifts, birthday gifts, mothers day gift.
【180 Degrees Rotated】The lamp head can be rotated 180 degrees, can produce different lights from different angles, so as to bring different effects to your room.The size and shape of the halo can be adjusted by rotating the lamp.
【Stable & Durable】 The lamp is made of high quality aluminum, with stable base and lamp mast. The energy-efficient, glare-free LED lamp has a long service life.(We modified the product according to the customer's experience. In its rotating position, we have a mixed material of iron and aluminum, which solves many problems before, turning to the head section and not causing the product due to frequent movement,wear and tear, hope customers are satisfied)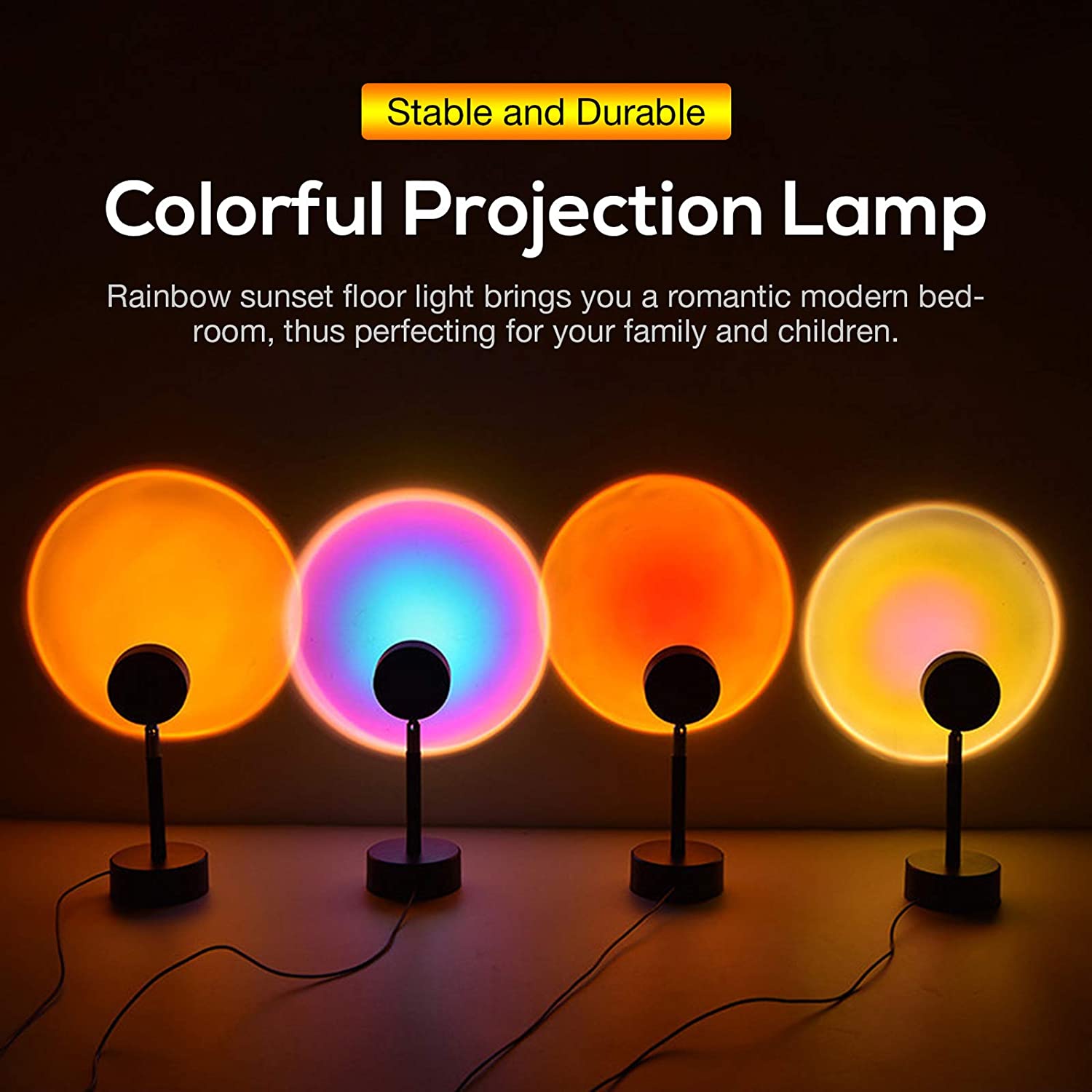 "

A

never-

ending

sunset!"
Give your home a colorful feel-good atmosphere with our "Sunscape" Desk Lamp - a dreamy visual experience!
MAKE YOUR ROOM STAND OUT💡
Turn your room into an aesthetic masterpiece. The Sunset Projector beautifully compliments all living spaces, making sure you leave your guests (and Instagram followers) in awe.
Impress your guests

Perfect for all living spaces

Take stunning pictures 
As a photographer, I already impressed a lot
☀️ SUNSET LIGHT - From now on, you can enjoy romantic sunsets or simply a relaxing vibe right from your room ... whenever you want - MOOD-BOOSTING light wherever you go!


🎨 ARTISTIC DESIGN - The lamp's head can be turned 90° degrees in each direction to create magnificent light from every angle you can think of.

The Halo's form and size can be adjusted by simply turning your lamp.
Do that and you can create all kinds of beautiful effects in your room to elevate your room ... and also take even better selfies and videos!


😇 REAL RELAXATION - Humans have unlearned how to really relax and we forgot all the countless opportunities to turn our minds off for once.

Our "Sunscape" Desk Lamp can help you calm down and get rid of stress in your life.
Recharge your vital energy and strength by enjoying your personal sunset right from the comfort of your room ... 24/7, 365 days a year.


💯 PREMIUM QUALITY - Built with high-quality materials and care, this lamp is robust and long-living.

Modern LED Lights allow you to save energy while still creating a beautiful atmosphere in your home ... win-win for you and nature!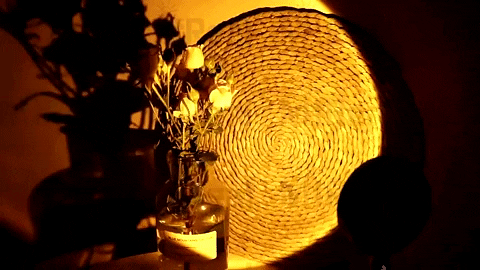 -

Pick
 

Your Environment -
Sunrise

Use the sunshine projection lamp to create midday vibes and energy. This bright glow creates the effect of sunshine at its peak time of day, filling the room with life and light. Perfect for happy and positive vibes.
Sunset 
Bask in the warmness and the coziness of the sunset hitting your face at all times now. Use to create the effect of sunlight casting through your window on a charming, sunny summer evening. 
Rainbow
Use the rainbow projection lamp to create a whimsical experience in your space. 
Halo
Let this projector radiate your space just like a space. 

Relieve

Stress

&

Anxiety 
🎁 THE PERFECT GIFT - You're looking for the PERFECT present for a loved one? You found it. Our "Sunscape" Desk Lamp is the perfect gift for every occasion!


Stay ahead of the curve and get your one-of-a-kind "Sunscape" Desk Lamp - unlimited sunsets for pocket change!
Specifications:

Powered via USB cable (included in the package). 

Power: 5W

Material: Aluminium + PVC
REDUCE DEPRESSION, STRESS & ANXIETY
Studies show lights that mimic sunsets help reduce depression, stress, and anxiety. Relax, close your eyes and embrace your own personal sunset from the comfort of your home.
PERFECT PHOTOS
Looking for the golden hour glow? Your Sunset Lamp softly illuminates your surroundings with its mesmerizing lights. You'll be left with flawless-looking skin, ready to have a unique photoshoot. Perfect for photographers, influencers, and content creators.
EASY TO USE
No matter the size of your room, the compact Aurora sunset lamp is easy to move from place to place. Simply plug through USB and you're ready to go. The lamp can rotate up to a wide range of 180° degrees.

Each Aurora Sunset Lamp is made to deliver the ideal soothing environment for you to either relax, improve your mood, or for overall interior aesthetics.